What is YFTL?
Creativity is a form of power given to those who see things different, but transcribes it in ways for the world to understand. Creativity comes in the form of song, dance, business, visuals, sight, film, feeling, and other forms. The purpose of Your Friend the Lens, is to display my work as whole. I love to express myself in many forms of art in which I hope you'll see. With my content, I want viewers to have the freedom to feel what I felt when I created something. That's where we connect. Here at Your Friend the Lens, I hope that you see my content and not only think, "hmm, he's really
creativity", but to more importantly see that each photo, each film, and each word written was based off a certain kind of emotion from the subject or from myself. When vibrations and wave lengths flow the same, that's where the magic happens. And every moment captured and written has been magic for me. Enjoy.
CONTACT

EMAIL: YOURFRIENDTHELENS@GMAIL.COM

PHONE: (769)226-3757

FACEBOOK: MARIO NICHOLS



Powered by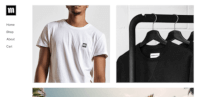 Create your own unique website with customizable templates.